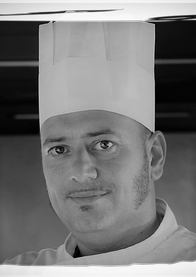 Daniele Simonetti, born in Bologna in 1978, has roots in his family tree that reach almost to the equator; for this reason, perhaps the desire to travel is innate in him which, combined with the passion for food, led him to choose a profession that shared both interests.
After the first experiences in his hometown, he worked with Bruno Barbieri and Gianfranco Vissani; then he moved first to London, then to Paris, waiting to get on the "right train", an opportunity that came with the Orient Express, where he cooked for a year traveling around Europe. He flew to the other side of the world to gather new chef experiences in Australia, New Zealand, Bahrain and Costa Crociere's kitchens arrived in Latin America.
In 2012 he returned to Bruno Barbieri's side for the opening of the Cotidie in London, where he worked for a year. Still new professional adventures aboard prestigious yachts. In 2015, he landed on Lake Garda in the starry kitchen of Vecchia Malcesine by Leandro Luppi. The adventure continues with Bruno Barbieri at Fourghetti, in 2017 for new shores and new seas as a private chef on luxury yachts. In 2018 he is in the kitchen of Cabò, a restaurant in Bologna.
In 2020 around the world as a sought after personal chef.